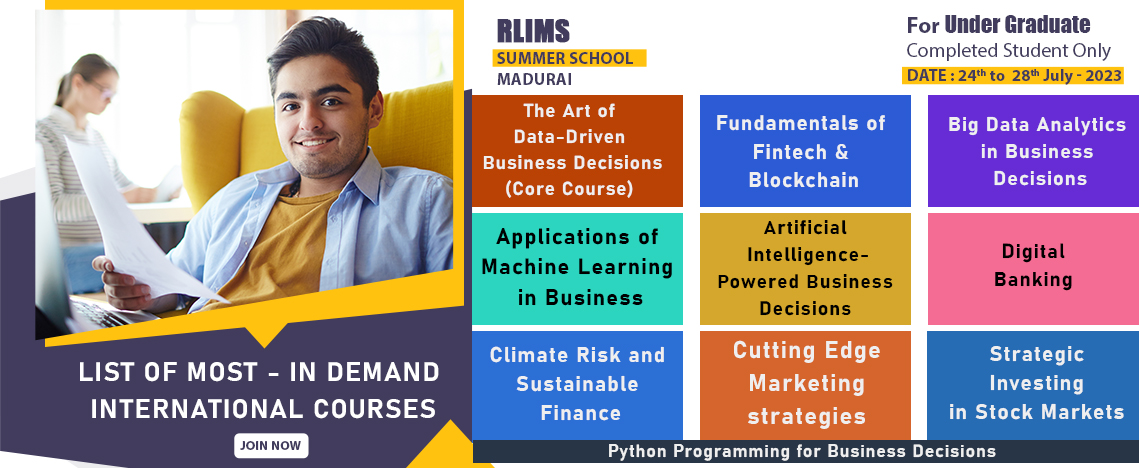 ABOUT RLIMS SUMMER SCHOOL:
RLIMS Summer Schools is a rigorous 5-day In-campus program designed to provide recent graduates (who have completed their final year of graduation and are awaiting degree awards and results) with up-to-date knowledge in high-demand areas. This program also offers insights and guidance to help them advance in their chosen career paths.
TEACHING PEDAGOGY & ASSESSMENT
This program offers 25 hours of in-class teaching, with 20 hours dedicated to expert faculty sharing their domain-specific expertise, and 5 hours on project-based learning.
At the end of the course, the participants will undergo an assessment, with grading and certification based on assessment performance (60%) and class participation/presentations (40%). Upon completion, participants will receive a certification titled "Certificate Program in [Specific Domain]" from RLIMS.
LIST OF PROPOSED COURSES
The Art of Data-Driven Business Decisions (Core Course)

Fundamentals of Fintech & Blockchain

Big Data Analytics in Business Decisions

Applications of Machine Learning in Business

Artificial Intelligence-Powered Business Decisions

Digital Banking

Climate Risk and Sustainable Finance

Cutting Edge Marketing strategies

Strategic Investing in Stock Markets

Python Programming for Business Decisions
(Participants can choose any one elective from the choice of electives mentioned above)
CLASS SCHEDULE
Monday, Wednesday and Friday only

1st Session

09.00 to 10.30 a.m.

Bio-Break

10.30 to 11.00 a.m.

2nd Session

11.00 to 12.15 p.m.

3rd Session

12.15 to 01.30 p.m.

 Tuesday and Thursday only

Actual & Project Session

(Actual Session: 09.00 a.m. to 01.30 p.m.)

(Project Session: 02.15 p.m. to 04.45 p.m.)
REGISTRATION FEE: Registration fee per participant will be Rs.1,500/- which has to be paid at the time of registration.